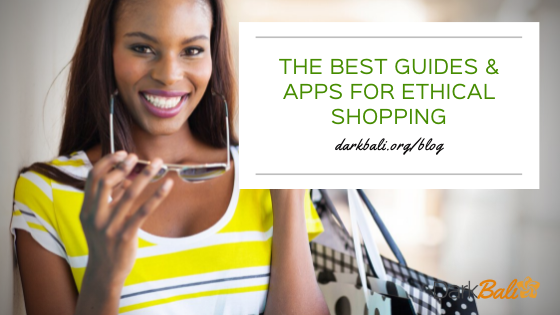 So you have made the connection between your activities as a consumer and human trafficking, but now you need to know how to take the next step. Excellent! We have made the process easy for you to transform yourself into an ethical shopping guru. Download an app and keep a link to this database of shopping guides nearby so that when it comes time to shop for clothing, food, electronics or home goods, you know which brands to avoid and which ones you can happily spend money on. (For more background on "fast fashion" and how it's harming humans and the planet, see Eco Watch's great article here.)

Good On You App –  This is the go-to app for ethical and sustainable fashion brands. Just download the app and pull it out when you are shopping to see if that cute top was made by people making a fair wage in a safe factory or if that great deal isn't so great.
Shop Ethical! App is a comprehensive list for Australian based brands of all kinds, from appliances and electronics, to food and baby items. With 5,000 products and reviews of company environmental and social records, you'll be able to get the information that you need to make purchases you can feel good about.
Faer App is a clever way to search for exactly what you want using text (blue summer dress) or a photo to find clothing and accessories that are ethically made. If you know what you want and just need to figure out where to find it, Faer is the way to do it.
The Good Shopping Guide is an enormous database of researched companies in multiple industries across the world, including beauty products, cleaning products, and shoes. The website allows for searches and comparisons of companies, and rates companies not only on their approach to human rights issues like human trafficking, but also their impact on the environment and use of animals in testing and research.
The Art of Simple's shopping guide is perfect for online shopping and gift giving. Many of the links on their site send you to Freedom Businesses which are dedicated to employing survivors of human trafficking or those at high risk of being trafficked. Their list includes jewelry, clothing, furniture, and toy companies.
Ethical Consumer is a UK based non-profit with decades of research and vetting for companies, brands, and products across the world. Their website has 100s of product specific guides (ethical bananas, ethical fast food chains, ethical gas boilers) making it super simple to find a brand or product selling what you need with strong values on workers rights and environmental responsibility.
The Honest Consumer is a growing website with guides to ethically sourced goods and ethical companies, both for-profit and social enterprises. Their shopping lists include weddings, pet products, eyewear, and subscription boxes.