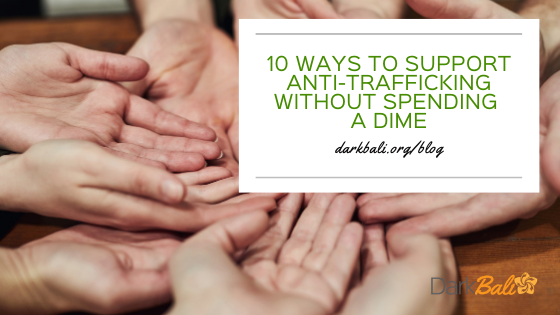 There is no doubt that there is much to do about the problem of human trafficking. Global estimates put the number of slaves in the world today at over 40 million. With such a staggering figure, it is critical that regular people come alongside professionals in the anti-trafficking sector. We cannot do it alone. The support, advocacy, and contributions of ordinary citizens drives the movement forward and ultimately disrupts the trade in human flesh.
Contributing money is the most basic way that people can help anti-trafficking organizations. In fact, research shows that people who donate $10 per month year after year in an organization's monthly giving program ultimately become the financial stability that an organization needs to continue to grow. But for those who cannot financially support anti-trafficking or who want to do something beyond just giving money, we've put together an easy list of ways you can join the fight against modern day slavery.
1 Spread the Word – If you found an organization you love, become their biggest advocate. Tell everyone you know in person and online how great they are and get them excited about it too. Enthusiasm is catching, so if you become a champion of an organization, chances are others will follow your lead.
2 Volunteer Your Time – Many organizations have a need for volunteers. Whether passing out fliers, helping to organize an event, stuffing envelopes, or helping to run a social media page, every minute you spend as a volunteer frees a staff person to focus their attention on the program (and saves the organization money!). The easiest way to become a volunteer is to fill out the contact form on your preferred organization's website and ask how you can help.
3 Buy Through Amazon Smile – Whenever you make your regular Amazon purchases through Amazon Smile .5% of every purchase you make is donated to the charity of your choice. With as much online shopping as we are all doing this year, this can add up to a significant donation. All you have to do is go to Amazon Smile and select your favorite registered charity. Remember to use smile.amazon.com rather than the regular amazon.com when you shop or use Smile Always extension to set your computer to automatically use Amazon Smile when shopping on the site.
4 Donate Your Credit Card Rewards – Many credit cards allow you to donate your accumulated miles, points, and cash to charity. This is an easy way to pass on your rewards that can make a big impact. You can donate through your credit card company's charity page on their website, or see this article for details.
5 Help Your Favorite Charity Beat the Algorithms – Every click, like, comment, and emoji tells social media platforms to blast the post out to more people. Become an active part of your favorite organization's social media platforms and help spread their message. Whether you use Facebook, Instagram, Twitter, or some other platform, make sure your preferred organization's posts show up first and make it a point to share/comment/like as often as you can.
6 Use Your Employer's Gift Match Program – Many companies encourage employee generosity by matching the donations made by employees. If you are already a regular donor and don't want to spend any more money but still want to increase your dollar's impact, ask if your company has an employee matching program. You could double your gift without paying anything.
7 Donate Your Skills and Services – Your specialty might be exactly what your favorite organization needs. Whether you are a website manager, an accountant, a counselor, an interior designer, or have any number of skill sets, you can contact your favorite organization with a specific offer. "Hi! I love what you are doing about human trafficking, and I want to help. I am a graphic artist/photographer/bookkeeper and would love to donate my time and professional skills if you have any need of them." Just find that contact form on their website and send your offer.
8 Make a Personal Introduction Between Your Friends and Your Favorite Organization – If you have any kind of platform, use it to introduce the organization you love to the people you love. Tell your friends why it's awesome and how they can support it too. Send an email or a personal message to the people on your contact list that you know care about eradicating human slavery or invite them to follow the organization's social media pages.
9 Host a Fundraiser – There are endless possibilities for kinds of fundraisers, but while they will require your time and energy, the financial investment can minimal. Get your neighbors to clean out their closets and organize a street wide garage sale with the profits going to your favorite charity. Create a piece of art for sale, run a sponsored marathon, offer a service, or just set up a lemonade stand if you like. Whatever profit you make, you can pass it on to help fight human trafficking.
10 Donate Your Birthday/Christmas/Graduation Gifts – Peer fundraising is one of the best ways you can get your friends and family to donate on your behalf. You can ask that the money that would normally have been spent on your gifts to be sent instead to your favorite organization. Many organizations have a program that offers step-by-step instructions as well as graphics and text that you can include in your peer fundraising request and easy ways to link your own page to the organization's donation page.
However you decide to support anti-trafficking work, remember that there is nothing that is too small. "Love and kindness are never wasted. They always make a difference. They bless the one who receives them, and they bless you, the giver." (Barbara De Angelis) Putting a stop to human trafficking has no cheap or easy fixes. It requires all of us to be a part of the solution.