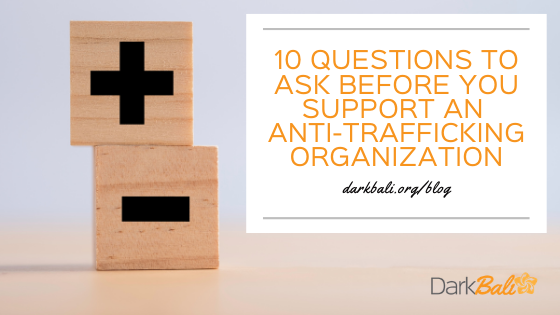 More slaves exist in the world today than ever before in history, and many people have determined to do something about it. Because of the enormous global interest in anti-human trafficking, non-profit organizations have formed to care for survivors, rescue victims, and prevent trafficking from happening in the first place. The average person doesn't work for an anti-trafficking organization, but they just might be looking for one to support as a volunteer, a donor, or an advocate.
With so many anti-trafficking organizations out there, how can you know which one to support? Before you put your energy behind any anti-trafficking organization, make sure you know the red flags and have asked the right questions to make sure your money and time are going to an organization committed to following the best practices in the sector. Finding the answers to the following questions can help you find out.
Does the organization protect the privacy of victims/survivors? To answer this question, you should pay careful attention to the images and videos used in marketing. Images of actual survivors or victims (especially children) are considered unethical, and it is rarely appropriate for them to be a part of a marketing campaign. If images of actual survivors or victims are used, care should be taken to ensure that no identifying information is in the image, and that the shot is taken from behind or the face obscured.
Even if the images are stock photos. the message about survivors should be one that honors their strength and resilience and does not leave them in a perpetual state of victimhood. Images of bound victims and people in cages should be rare. Hope and recovery should be highlighted.
Furthermore, stories about victims and survivors should be generalized, or it should be apparent that the person has given clear consent to have their story shared publicly. Sharing the details about a minor's story even with consent is not considered ethical because we have learned how often child survivors grow up and decide they want their privacy after all, only to discover that there is no way to undo the choice to publicize their story. Whatever images and videos the organization uses should always honor victims of human trafficking and never re-exploit them.
Does the organization work collaboratively with other organizations and local leadership? Beware of any organization that refers to itself as some sort of maverick in the field. It is simply impossible for any one organization to tackle the issue alone, so a quality program will always involve other service providers. In nearly every region of the world, there are multiple organizations operating to combat human trafficking, so there should be ample opportunity for an organization to collaborate with partners. Ask the organization if they are involved in a coalition or local task force. Look through their website to see if they mention their local partners. Scan their social media to see how often they post about partnerships or collaborative projects. Lone ranger organizations rarely survive for very long, and often their impact is minimal.
For an international organization, what is their relationship to local community leaders? International humanitarian organizations exist all over the world and often intentionally open in places where there are few resources, However, an international organization that positions itself as the developing country's savior is suspect. Attitudes of paternalism and colonialism are ultimately damaging for the communities (and even trafficking victims) being served. An international organization should have a balanced ratio of local staff to international staff, and there should be local people involved in high levels of leadership, including the board of directors.
If the organization is involved in rescue work, are they coordinating with local law enforcement for arrests and prosecutions? There are organizations out there who do a great job marketing themselves as "global cops" who bust down the doors and snatch victims out of harm's way. This makes for a great Hollywood movie, but it is actually incredibly destructive to the anti-trafficking movement and to victims. Best practices require respect for and coordination with local law enforcement to initiate a legal rescue. Aside from the illegal nature of rescuing a victim without the knowledge of that country's law enforcement, the lack of arrest and prosecution does little to curb the crime, and in fact creates a vacuum in which new victims will be exploited. Those interested in supporting rescue work should find out how the work is done. Is the rescue team supporting local law enforcement or undermining them?
Is there clear financial accountability? In many countries, non-profit organizations are vetted by the government, so simply having non-profit status (eg. 501c3 tax status in the USA) is a helpful indicator. However, it is important to do a little more homework to gauge the financial integrity of the organization. Look up their annual report to see the breakdown of their expenses. In the USA, you can find the organization's annual 990 tax form to find out how much the top executives make in salary. Finally, check out vetting organizations like Guidestar to see the organization's documentation.
Does the organization have a child protection policy? There is simply zero reason not to have one. A child protection policy should be one of the first documents that an anti-trafficking organization drafts and is often required by granting organizations. You should be able to email any organization for a copy of their child protection policy without any problems.
For organizations working in recovery care, is it clear that the well-being of the survivors is central? In particular, organizations that allow easy contact between survivors and volunteers are not prioritizing the needs of recovering survivors. In addition to background checks and training for staff, only those with pertinent skills and training should be allowed to volunteer in positions that give them access to survivors. Residential care and shelters should be treated like the survivors' homes and visitors kept to a minimum. It should be obvious that the organization sees itself as a wall of protection around the recovering survivor, ensuring that their privacy and dignity are respected.
Are there reputable organizations that support the organization through grants? Grants are very difficult to get and require a mountain of documentation. In addition, funding organizations require rigorous accountability for the money given, unlike individual small donations. If you find that there are foundations and government grants backing an organization, that is a good sign.
What do employees say about working for the organization? Ironically, anti-trafficking organizations have developed a reputation for finding ways of getting free labor (for example, unpaid internships) and overworking their employees without appropriate compensation. This is especially true in developing countries that do not have the same rigorous labor laws as wealthier nations.  The anti-trafficking world is also an industry full of small organizations still being run by the visionary founders who may not actually have great management skills.  Find an employee willing to speak candidly about their experience with the organization, or search for reviews of the organization online by former staff members and volunteers.
What does employee care look like? Along the same lines, a quality organization recognizes that working in victim's services is extraordinarily difficult and is not willing to create more damage through insufficient support for staff members. The mental and emotional toll of caring for survivors or being constantly bombarded with the knowledge about the terrible things that human beings do to one another is enormous. Find out if the organization has a protocol for rest and trauma recovery, if they offer psychological support and counseling for staff, and if they actively recognize and combat the threat of burnout at all levels of the organization.
Obviously, it takes effort to find the answers to these questions, but it is important to make sure that your time and money are being used to create the most impact in healthy and sustainable ways. Many great organizations might not hit all of these marks, especially if they are new. However, a little bit of homework can ensure that you support the ones that are doing the long, hard work aligned with best practices and accountability.