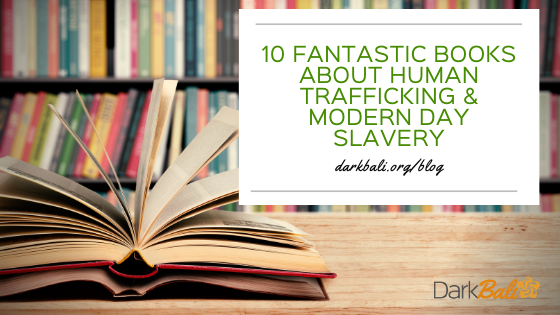 If you are looking for a deep dive into learning the complexity of modern day slavery or trying to find some resources to understand how you can help or you just want to listen to the voices of survivors themselves, we've got you covered. The following list has the top 10 titles that we recommend for anyone trying to learn more about global human trafficking.
Books About How the Global Slave Trade Works
Disposable People: New Slavery in the Global Economy by Kevin Bales  Three interrelated factors have helped create the new slavery. The enormous population explosion over the past three decades has flooded the world's labor markets with millions of impoverished, desperate people. The revolution of economic globalization and modernized agriculture has dispossessed poor farmers, making them and their families ready targets for enslavement. And rapid economic change in developing countries has bred corruption and violence, destroying social rules that might once have protected the most vulnerable individuals. Bales's vivid case studies present actual slaves, slaveholders, and public officials in well-drawn historical, geographical, and cultural contexts.
Sex Trafficking: Inside the Business of Modern Slavery by Siddharth Kara  After fifteen years, Kara has recorded nearly 900 cases of sex trafficking in forty-one countries and has helped advise on numerous legal, tactical, and policy efforts for abolishing modern-day slavery across the globe. Sex Trafficking continues to lead as a resource for those hoping to expose this hidden evil and eradicate its practice once and for all.
Modern Slavery: A Beginner's Guide by Kevin Bales  Written by the world's leading experts and campaigners, Modern Slavery: A Beginner's Guide blends original research with shocking first-hand accounts from slaves themselves around the world to reveal the truth behind one of the worst humanitarian crises facing us today
Blood and Earth: Modern Slavery, Ecocide, and the Secret to Saving the World by Kevin Bales  A powerful and captivating examination of two entwined global crises: environmental destruction and human trafficking—and an inspiring, bold plan for how we can solve them.
Human Trafficking Around the World Hidden in Plain Sight by Stephanie Hepburn  This unprecedented study of sex trafficking, forced labor, organ trafficking, and sex tourism across twenty-four nations highlights the experiences of the victims, perpetrators, and anti-traffickers involved in this brutal trade.
Books that are Faith Based
Stopping the Traffick: A Christian Response to Sexual Exploitation and Trafficking by Glenn Miles and Christa Foster Crawford  This cutting-edge book brings together practical advice and strategic insight from more than 40 global experts and experienced practitioners who thoughtfully explore how to go beyond merely knowing that something must be done to a deeper understanding of how we can more effectively bring an end to exploitation.
The Lucky One by Jenni Jessen  She was only four years old when she was sold into the sex trade. She shouldn't have survived it. If God had answered her prayers, she wouldn't have. Here is the true account of how she was brought out of captivity and into a life of freedom.
Survivor Stories
Sold by Patricia McCormick  Lakshmi is a thirteen-year-old girl who lives with her family in a small hut on a mountain in Nepal. When her stepfather says she must leave home and take a job to support her family, Lakshmi journeys to India and arrives at "Happiness House" full of hope. But she soon learns the unthinkable truth: she has been sold into prostitution. (A novel that accurately depicts trafficking in many parts of Asia.)
Radhika's Story by Joanna Lumley and Sharon Hendry  An incredible story of triumph over evil in the modern world. It is a moving account of what a mother's love for her child can achieve even when the odds are stacked against them both. It is a horrifying first-hand account of a survivor of human trafficking in the 21st-century. It is a portrayal of the illegal and sordid underworld of trafficking in human organs.
Girls Like Us by Rachel Lloyd  Rachel Lloyd's riveting survivor story is the true tale of her hard-won escape from the commercial sex industry and her bold founding of GEMS, New York City's Girls Education and Mentoring Service, to help countless other young girls escape "the life." Lloyd's unflinchingly honest memoir is a powerful and unforgettable story of inhuman abuse, enduring hope, and the promise of redemption.