Appropriate Interaction with Street Children
How Should You Respond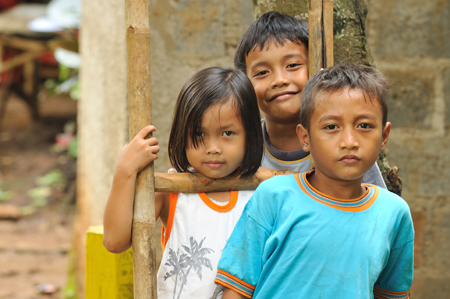 When tourists encounter poor children begging on the streets of their holiday destination, they often immediately want to offer something to help the needy child. While this compassion is commendable, what many tourists do not realize is that their "help" is actually hurting that child and perpetuating a system of abuse and slavery.
In Indonesia as well as in many other nations around the world, children are exploited for their ability to generate income. While Dark Bali highlights sexual slavery (and many of these children are also victims of sex trafficking), forced labour is another kind of slavery seen in Indonesia and recruitment for begging falls into the international definition of human trafficking under "forced labour or services."
Forms of this kind of labour slavery seen in the cities of Indonesia are children hustling and begging, child vendors, and children working as "tourist traps" (for example, there is a gang of children who amuse tourists with a traditional Balinese dragon dance nightly in the Sanur area).
The Most Basic Rules
The most basic rules for interacting with these children are simple:
Do not ever give money to a child
Do not ever buy anything from a child
Do not pay for unsolicited performances
This sounds incredibly harsh, however, it is important to realize that all of the money that touches a child's hand will end up in the pockets of an exploitative adult. This money seldom goes to poor families to help them afford food or medicine; it goes to perpetuate a system that keeps children out of school and on the streets. In some documented cases around the world, children are maimed and disfigured, up to even undergoing an amputation, in order to be able to increase the amount of money they can generate from sympathetic tourists.
Trafficking rings exist for the mere purpose of kidnapping or coercing children into forced begging, selling, and performing. Compassionate tourist money fuels this industry.
Dark Bali advises the above principle when any child is involved, for example a mother holding an infant. This article is a heartbreaking explanation of how even infants and toddlers are used by trafficking syndicates for financial gain, often drugging children to keep them quiet while the adult handler (not always their mother) begs.
If you are moved to act, please consider these non-harmful ways of caring for children on the streets.
Donate school supplies to local schools in impoverished neighborhoods.
Give to a local NGO that has regular interaction with street children.
If you absolutely want to give something tangible to street children, give them something immediately consumable – a sticker, a hand stamp, cut/opened fruit, or an opened package of food (a closed package can easily be resold).
Remember that the goal is not to turn away from caring for needy children, but to make sure that acts of compassion are actually helpful and loving.